The Jaguar F-Type can be best described as a beautiful big cat with a stupendous roar. Few cars are as visually stunning as the latest sports car from the most heralded of British sports car makers, nor as audibly satisfying for that matter. Fire up the F-Type and you'll be greeted by a soundtrack like no other.
Producing the F-Type was always going to be a difficult task given Jaguar's illustrious back-catalogue. No list of iconic cars is complete without an appearance from Jaguar's E-Type. The E-Type was - and to some degree still is - the quintessential British sports car. Alongside the Mini, Aston Martin Vanquish and the Land Rover Defender it straddles the mountaintop of British automotive excellence. It remains the standard against which all other British sports cars are judged.
The Jaguar E-Type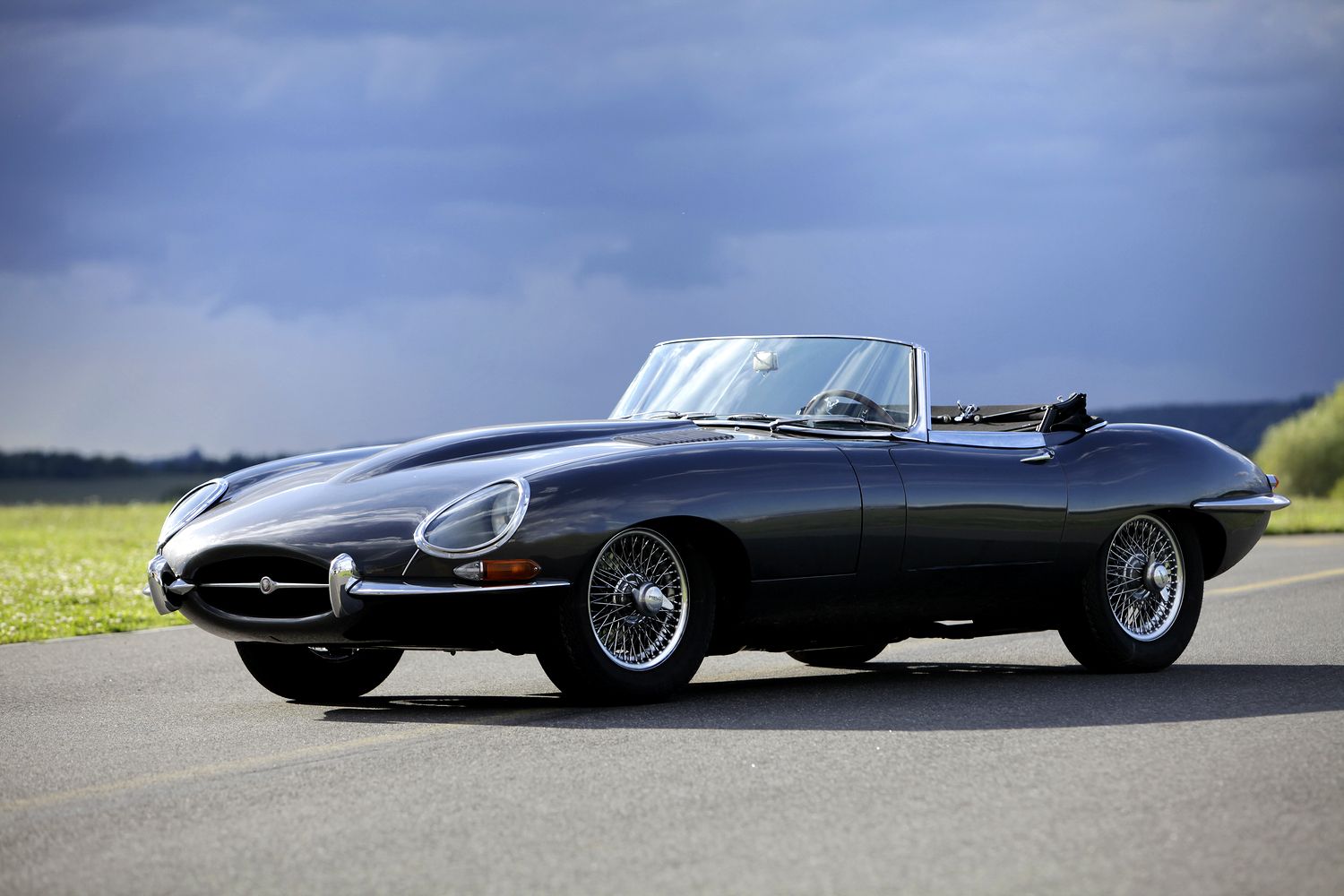 This sets a high bar, because the E-Type is more than just a car. It's a physical manifestation of 1960's Britain, of a nation emerging from post-war hardship into a time of groundbreaking creativity in fashion, music and car design. The E-Type set lofty standards for design and elegance that will forever be associated with Jaguar. Breathtakingly beautiful, Enzo Ferrari went so far as to describe it as the most beautiful car in the world. But it wasn't all show and no go. This car had performance to match its appearance.
Thanks to its aircraft-technology based monocoque structure, it was modern and light. With race car-like disc brakes and clever suspension design, it was responsive and agile too. It was also blisteringly fast for its time thanks to a 265bhp 3.8-litre engine, with a top speed of 150mph and sub 7-second 0-60mph dash.
It is perhaps because of the sheer importance to motoring history of the E-Type, that the F-Type finds itself to be an underrated supercar. Following the E-Type is an impossible task.
Yet in its own way - thankfully for Jaguar and car enthusiasts alike - the F-Type has managed to go some way to partially filling the rather large shoes left behind by the E-Type. Sure, it's not as culturally significant as its predecessor. But then again, very few cars in history are. What it is, however, is heart-achingly handsome, a fantastic car in its own right and an absolute hoot to drive. That's why it easily found a place on our list of "23 Supercars You Need To Drive".
Jaguar F-Type Review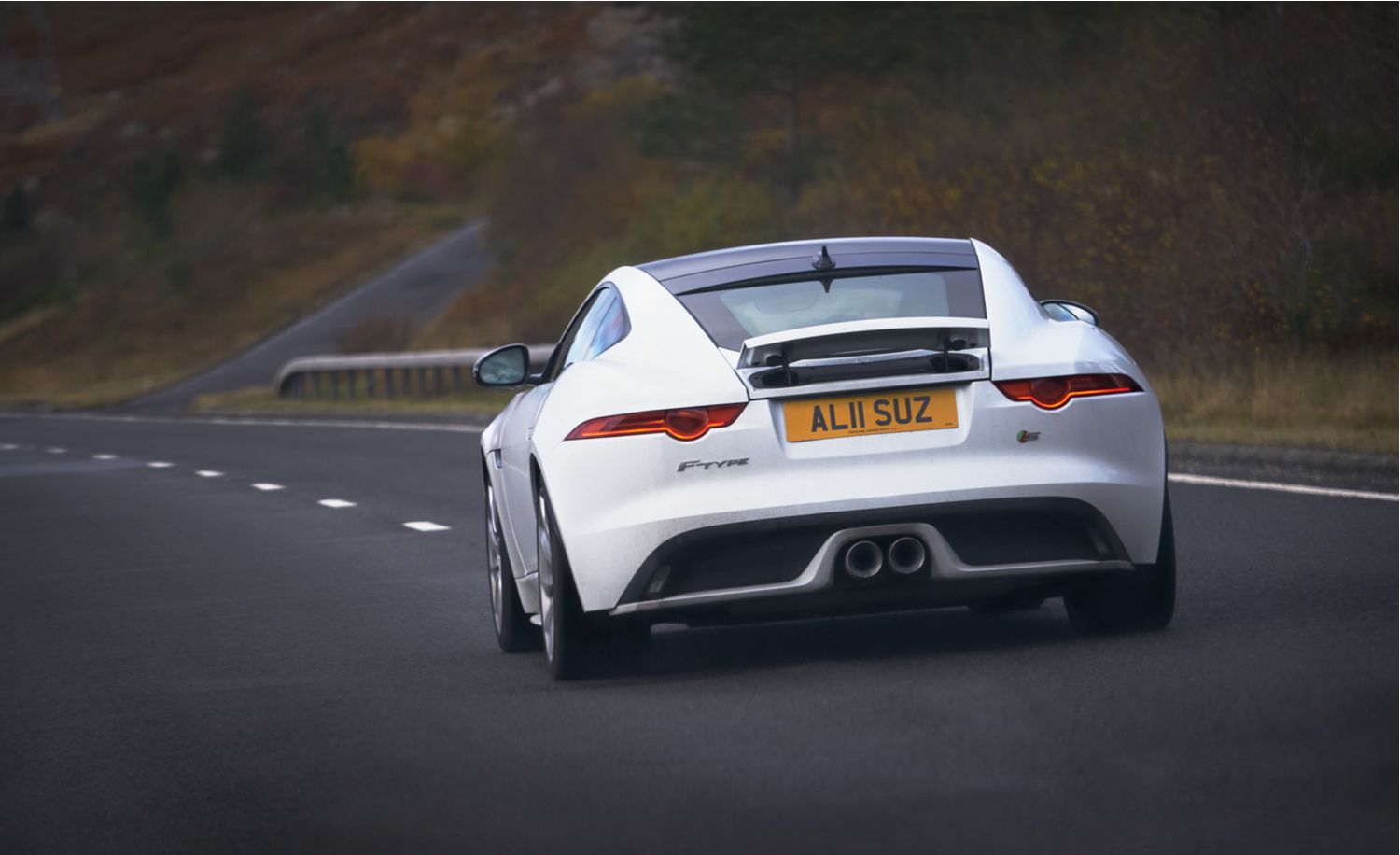 The obvious place to start with the F-Type is the styling. It is undeniably gorgeous. Nobody has ever had to ask, "Do you like how it looks?". Somehow it manages to be modern and timeless, elegant but aggressive, all at the same time. It retains the DNA of the E-Type, with a long low-slung front end, a sharp, tight behind and slim tail lamps. All without looking like a contemporary rip-off that falls short. In coupe or convertible form, the F-Type has one of the best rear ends around.
The overall effect of the F-Type's styling is one of perfect proportions from any angle. The aluminum bodywork has been neatly sculpted, with tight lines very much the order of the day. In all, it's an elegantly wrapped package no matter how you view it. With an F-Type, no fuel stop is complete without a final glance at the car before you head inside from the forecourt to pay.
Get behind the steering wheel and you'll find that Jaguar has put the same effort into the design of the interior as it has the exterior. Before you enter the vehicle, the door handles will pop out from the bodywork to provide an appropriate sense of occasion. Press the starter button and the air vents will emerge from the dashboard. Switchgear feels sturdy and premium, with swathes of leather trim present throughout the cockpit. The paddle shifters meanwhile are reassuringly rubberized to make sure your hands won't slip when the time comes for a gear change.
Jaguar F-Type Interior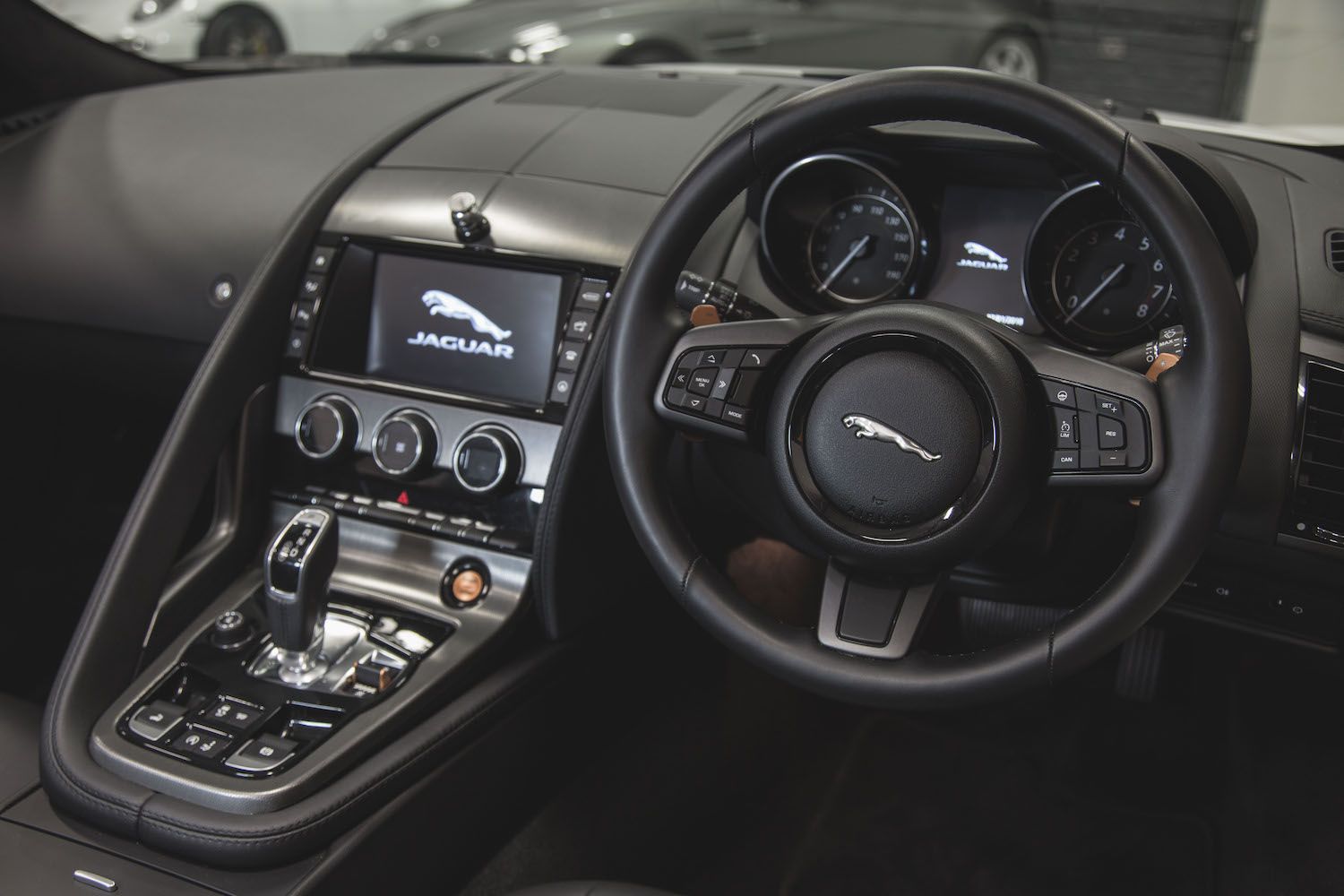 Sat-Nav and Bluetooth connectivity are standard and Jaguar has gone to great efforts to constantly evolve its infotainment system. Jaguar's InControl Remote system provides added layers of functionality and allows you to monitor fuel level, remotely pre-heat or cool the car, or lock and unlock it. There's also the ability to pair your smartphone with the revised eight-inch touchscreen to allow access to music, maps, contacts and calendar functions.
Nobody buys a two-seater supercar for interior space. And while there isn't a lot of space for luggage, there's plenty of room for the driver and passenger, both of whom should find themselves to be very comfortable on long journeys in the F-Type's cabin. The driving seats are positioned low, as you'd expect in an engaging-to-drive sports car. But thanks to the supportive and adjustable seats this comes at no cost to comfort.
The F-Type offers an audio experience that is just as striking as its visuals - and we're not just talking about the sound system that features six speakers with 180 Watts of power (which can be upgraded to a whopping 12 speakers with 770 Watts). The throaty rasp of the exhaust note and roar of the engine - the V6 in particular - never get old. It is a soundtrack that encourages you to push the car further and drive it harder, as every flick of the throttle is met by a sensory reward. Which is a good thing, as this is a car that wants to be pushed.
F-Type V8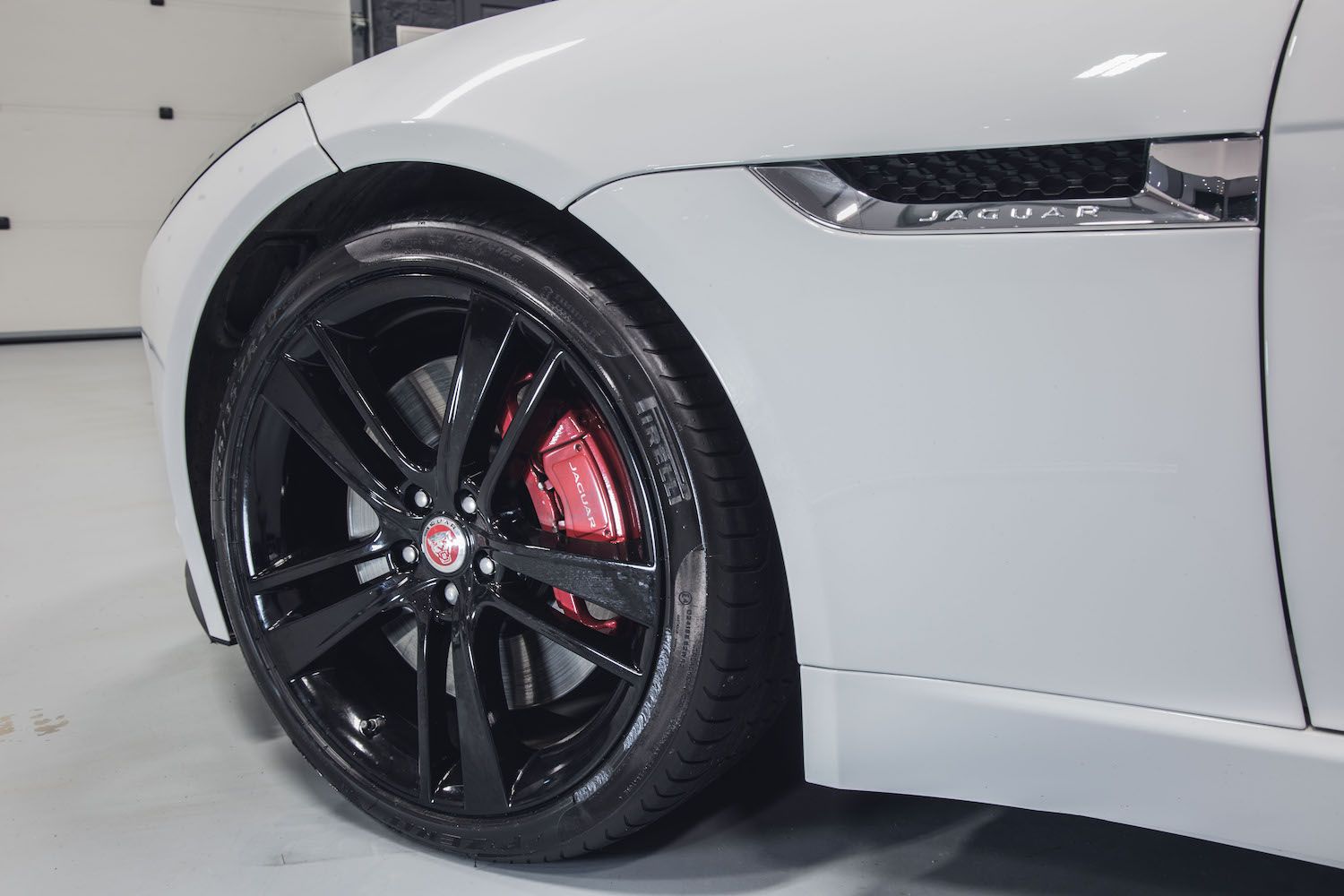 Unlike almost any other supercar, the F-Type comes with a range of engine choices. You'd be forgiven for assuming that they'd all be supercharged because when you think of fast Jags, supercharged engines are most likely what first springs to mind.
The assumption would be incorrect though, because at the bottom of the line-up is a four-cylinder 2.0-litre turbocharged unit that generates 296bhp, with a top speed of 155 mph and 0-60mph being covered in 5.7 seconds. There are two 3.0-litre V6 engine variants that produce 0-60mph in 5.3 seconds and 4.8 seconds respectively and top speeds over 162mph.
Most potent though are the two V8 versions of the F-Type, the R and SVR. The F-Type R has a 5.0-litre V8 that covers the 0-60mph sprint in 3.9 seconds and hits a top speed of 186mph. The SVR, meanwhile, destroys 0-60mph in 3.5 seconds and has the potential to crack 200mph. There are also choices for rear-wheel drive or AWD systems across the range. Perhaps best all round are the V6 models, as they feel a little more nimble and agile than the V8 iterations, thanks to their lower weight.
Regardless of the engine choice you get barnstorming performance and wonderful poise across the range. The rear wheel drive versions are more fun than their AWD counterparts if you're looking to push the back end out and have some fun on a supercar driving experience. But if you're looking for laser focus and ultimate performance, the AWD offers all that in spades.
They feature an active system that sends only 30 per cent of torque to the front wheels, feeding more in as the rear wheels lose traction. The added weight of the system is almost imperceptible and the majority of the time the car feels like it's rear-wheel drive. But when you really need it, the quick-witted AWD system steps in, adding to the already phenomenal levels of grip.
Jaguar F-Type Price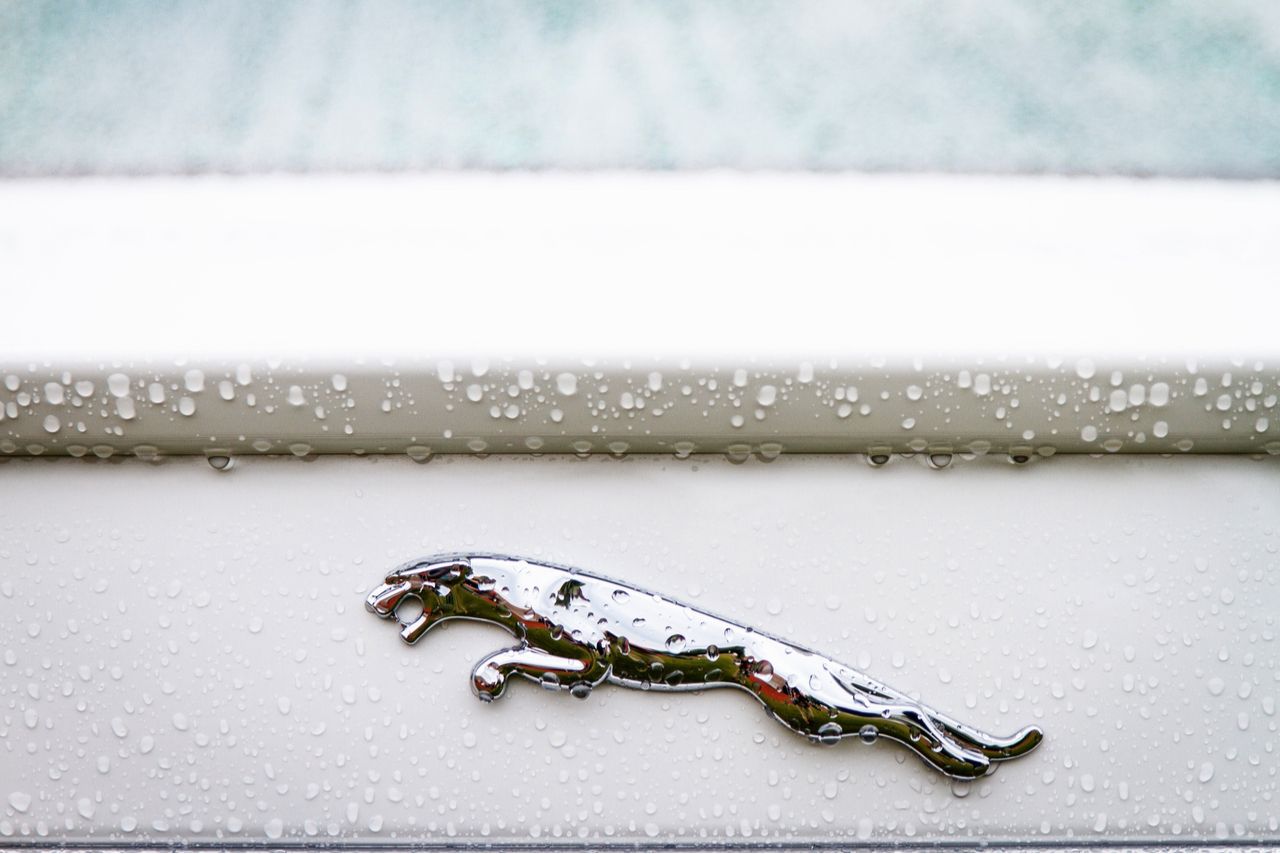 A brand new Jaguar F-Type SVR with the 5.0-litre V8 engine will set you back around £115,000, whilst a new 3.0-litre V6 with 380bhp will cost almost £70,000 without options. On the used market you can pick up an F-Type R for around £70,000 with under 3,000 miles on the clock, or a V6 for £45,000 with 5,000 miles under its belt. Or you go for the smart option and hire a Jaguar F-Type whenever you need it.
Driving a Jaguar F-Type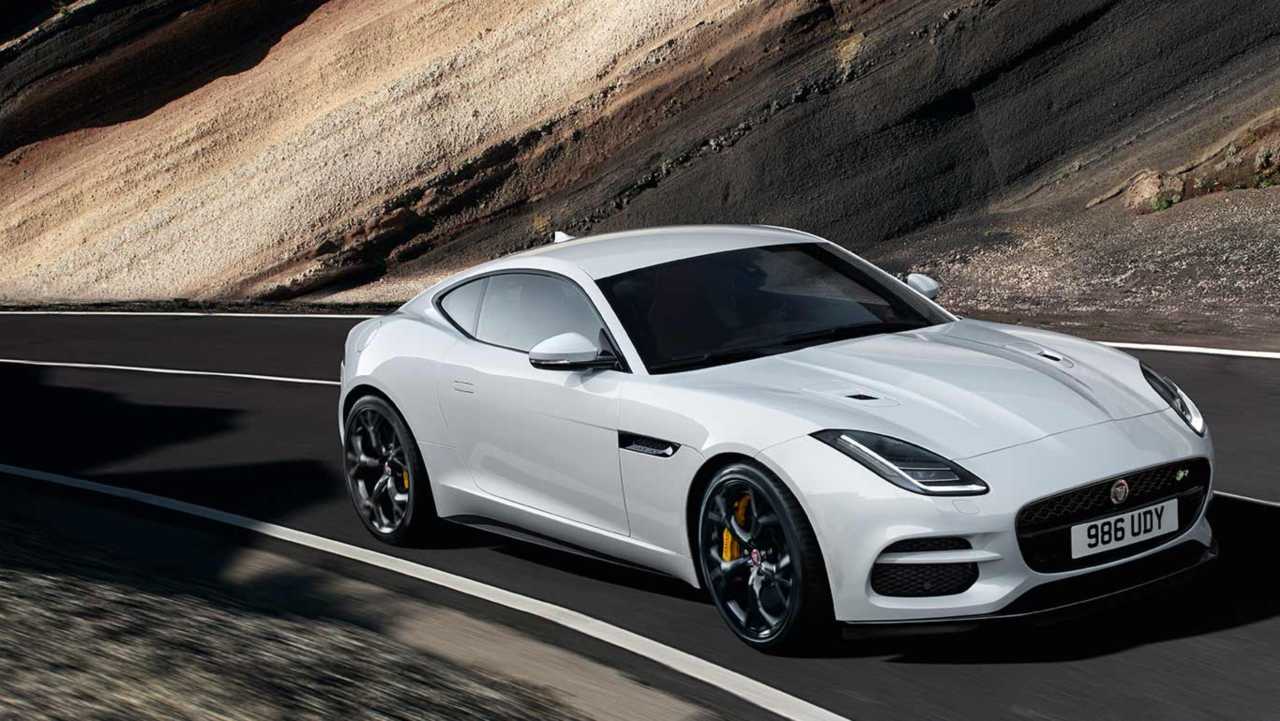 Developed from the outset as a convertible, the F-Type offers an almost identical driving experience whether in coupe or convertible form. The convertible, in particular, is impressive, with very little vibration, good chassis stiffness and body control through the corners. Add the steering - which is quick and precise - to the supreme grip levels and 50:50 weight distribution, and you have an agile car that is incredibly engaging to drive in rear-wheel or all-wheel drive formats. The F-Type truly comes alive when pushed to its limits. Unlike many of its rivals, the F-Type manages to blend engaging performance with GT levels of comfort.
Why not experience the phenomenal soundtrack of a Jaguar F-Type for yourself via Supercar Hire?