Best Supercars
Before we can tell you about the best supercars around, we first need to define the moniker 'supercar'. Because it can be a surprisingly difficult task. The word 'supercar' evokes different responses from different people; each petrolhead seemingly has their own idea of what the term should stand for. One definition we particularly like is from DriveTribe, who said: " A supercar presents a level of performance that is enough to scare the bajesus out of the majority of people."
To keep things simple, we decided to start with the dictionary definition "a high-performance sports car" and add a little sprinkle of 'special/exotic/wow' on top. So with all that in mind, it's time to revel in the '23 Supercars You Need To Drive'.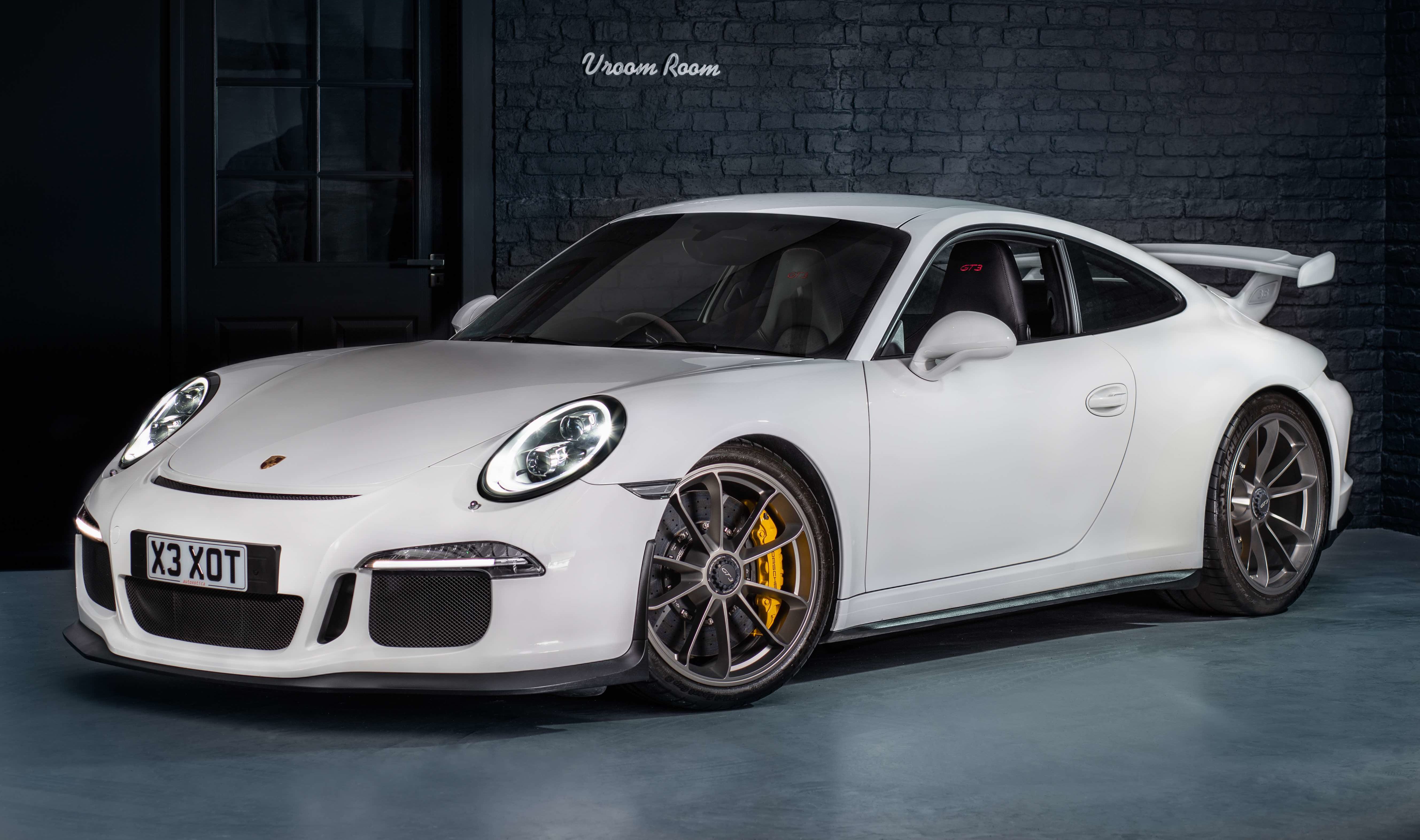 With an instantly recognisable design, the rear-engined 911 is as iconic as icons come. It's the automotive manifestation of the mantra "if it ain't broke, don't fix it". The 911 has stayed true to its roots, with a shape that has favoured evolution over revolution. Everybody knows a 911 when they see one.
And everybody that knows a 911, knows just how special the 911 GT3 is - the massive wing and air vents are a bit of a giveaway. The 911 GT3 has returned to its roots and is once again equipped with a manual gearbox. It also has a 4.0 litre boxer six-cylinder engine, 500hp and 339lb-ft of torque. All of which adds up to a 0-60 time of 3.2 secs in the auto and a top speed of 198mph. If you are looking for supercars for hire, you could do a lot worse than a 911 GT3.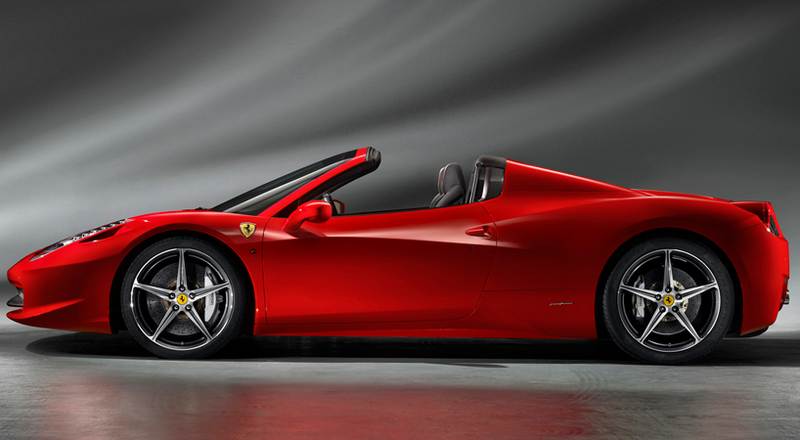 The 458 Spider was the first mid-engined Ferrari with direct fuel injection and also Ferrari's very first mid-engined hard-top convertible with a folding metal roof.
When it comes to the engine it's all in the name, because this is a car that was named after the 4.5 litre V8 unit occupying the engine bay. A unit that is naturally aspirated and manages to push out 562bhp. It will also rev to 9,000rpm, produce 348lb-ft of torque at 6,000rpm, use its rear wheel drive to sprint from 0-62mph in less than 3.4 seconds and blast its way up to 198mph. It also happens to be drop-dead gorgeous.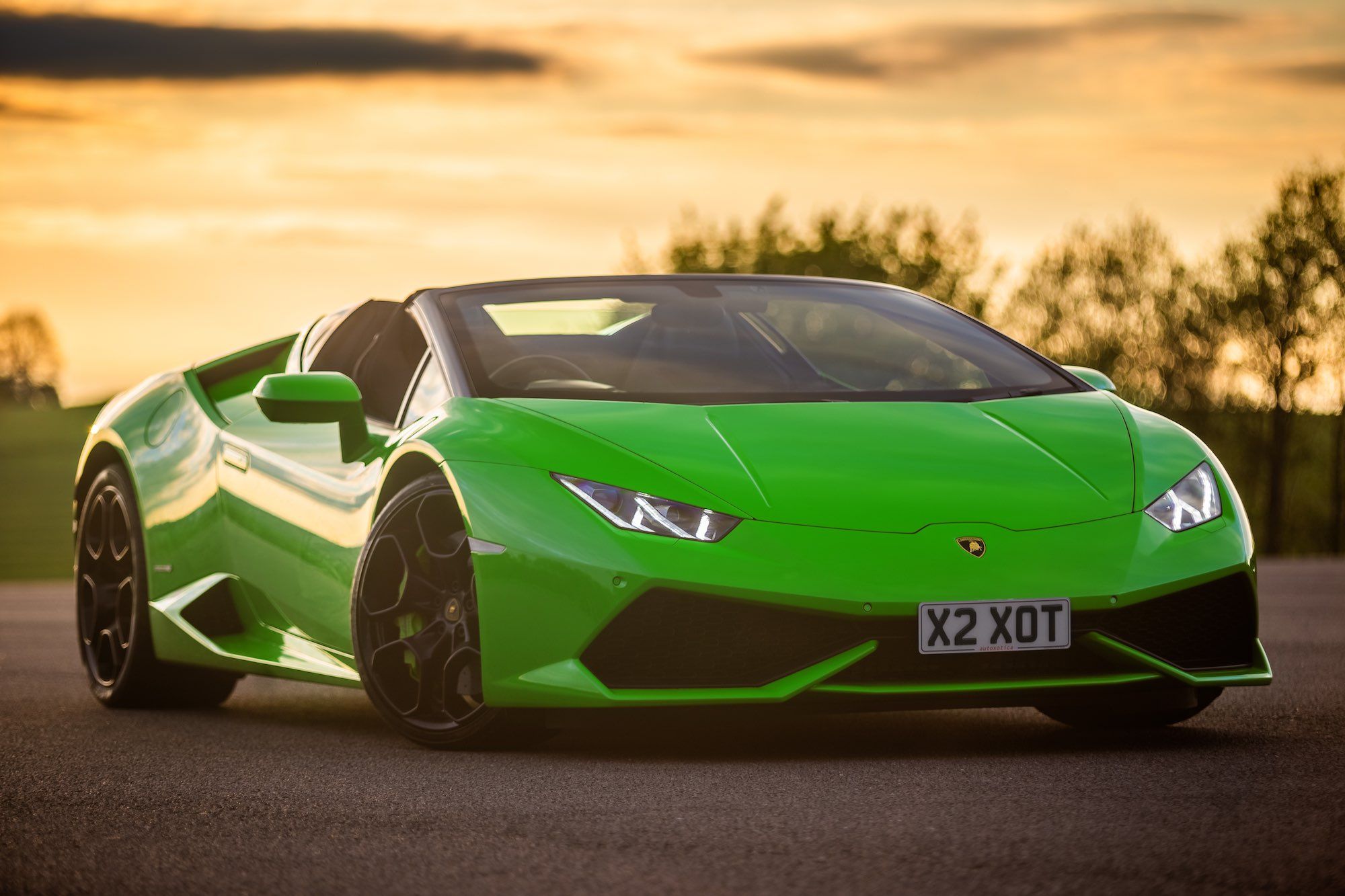 Branded by Lamborghini as the "lifestyle" version of the Huracan, the Spyder is a much more focused update to the car it essentially replaced, the Gallardo.
Lamborghinis are no longer the unreliable vehicles of the past, with the current crop managing to blend stunning performance with head-turning looks and premium build quality. All of which is epitomised in the Lamborghini Huracan Spyder.
The Huracan Spyder has a 5.2 litre V10 engine that produces peak power of 603bhp at 8250rpm, and a maximum torque output of 413lb-ft available from 6500rpm. All of which is distributed to all four wheels via a seven-speed twin clutch gearbox, meaning 0-62mph in 3.4 seconds and a top speed of 201mph. This is a car quite rightly favoured by those who rent supercars.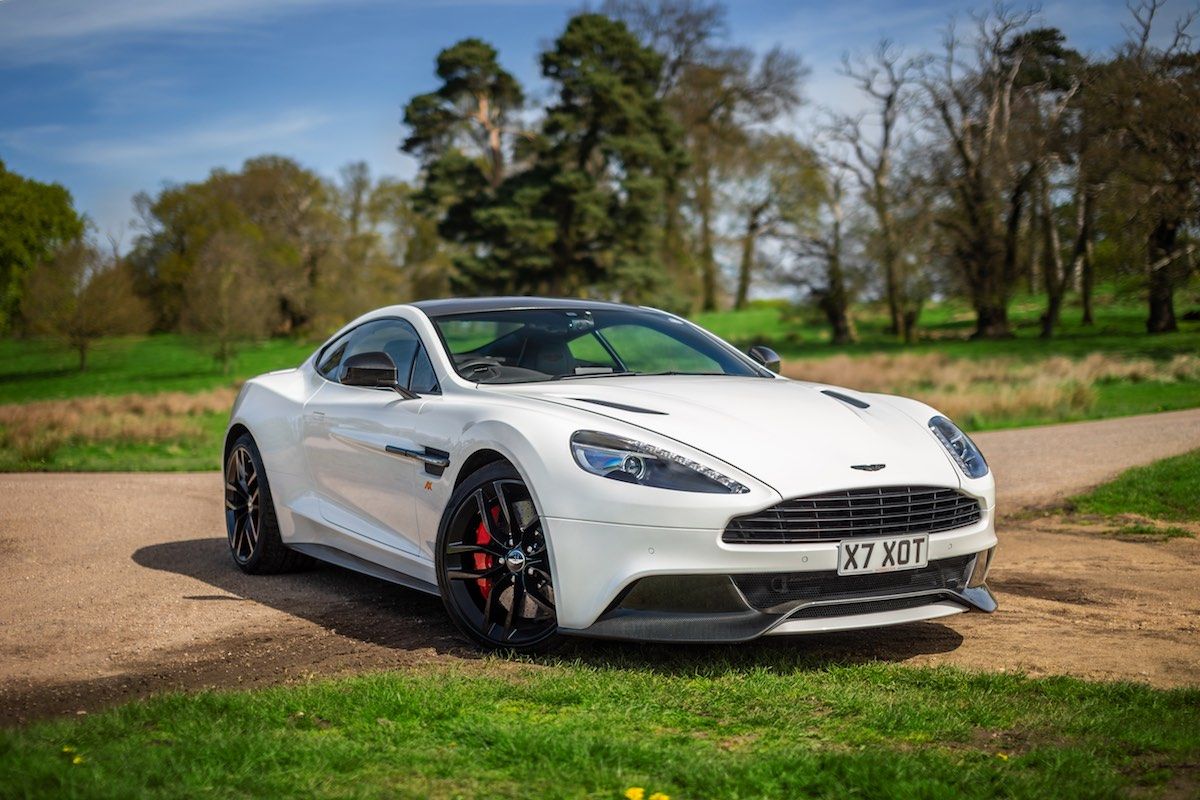 This is a proper GT car. A Grand Tourer in the truest sense. Able to combine the comfort required for long distance travel, with the ability to enjoy the twisty stuff once you get to where-ever it is that you're going.
Within the supercar world, the Aston Martin Vanquish S stands tall at the forefront of British engineering. It has a V12 engine packing 595bhp and 465lb-foot of torque and performance that will whisk you from 0-60 in 3.4 seconds and keep on whisking until you reach a top speed of 201mph. And of course, it's an Aston Martin, so luxury abounds.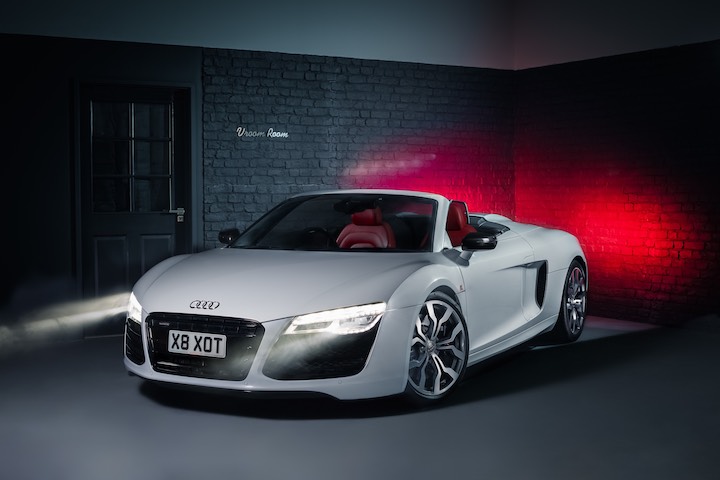 The Audi R8 Spyder is a rare car because it's one of the few convertible sports cars that performs just as well as it's hardtop coupe sibling. Weighing just 8kg more than the coupe, the Spyder's aluminium frame is 55 per cent stiffer than the previous generation.
Add that stiff chassis and lightweight construction to a 5.2-litre FSI V10 engine - with 533bhp that is delivered at 7,800rpm - plus a 398lb-ft torque peak at 6500rpm, and you have a pretty outstanding car on your hands. Because there's Audi's famed all-wheel drive system to throw into the mix too.
The combination of all of which means a car that is capable of reaching 198mph and getting from 0-62mph in 3.6seconds.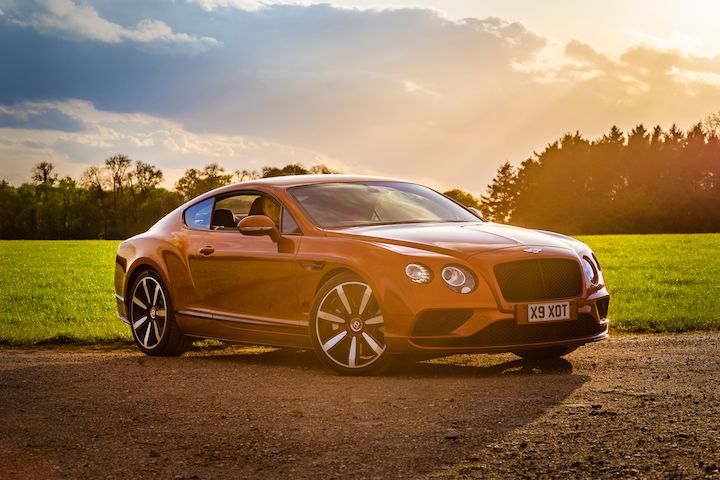 The second-generation Bentley Continental GT coupe is another quintessential British grand tourer. From its imposing looks to its place as one of the top luxury cars it around, it plays the part of the British gentleman to a tee. It's charming for sure; but also ever so slightly quaint.
Thanks to its combination of space, refinement and performance, it is almost without rivals (more on the Rolls Royce Wraith to follow), occupying its own corner of the market for fast sports cars.
Despite its rather hefty size, the Bentley Continental GT still provides outstanding performance, as even the entry-level V8 can break 0-62mph in 4.8 seconds, whilst the benchmark sprint time for the GT3-R model is 3.6 seconds. Quickest of the lot is an extraordinary 6.0 litre W12 engine that pushes out 700bhp and reaches 62mph in a rather miraculous 3.4 seconds.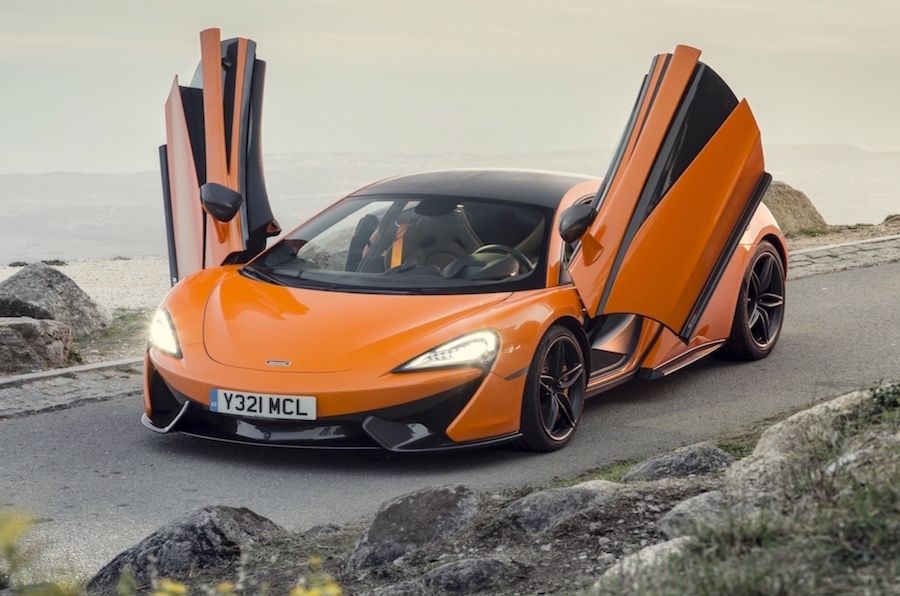 When created, the McLaren 570S Coupe was the flagship model for the Sport Series introduced by the well-known supercar manufacturer. Aimed to appeal to the supercar buyer who wants to use their vehicle as a daily driver, the 570S is comfortable and easy to live with, but not as soft as the 570GT. So practicality doesn't come at the cost of performance.
With a lightweight carbon fibre construction, a 3.8 litre V8 engine with 570hp and twin turbos, the 570S coupe will dash to 62mph in a blistering 3.2 seconds. It also has a fantastic gearbox, and lightning fast steering that makes it one of the best handling cars around.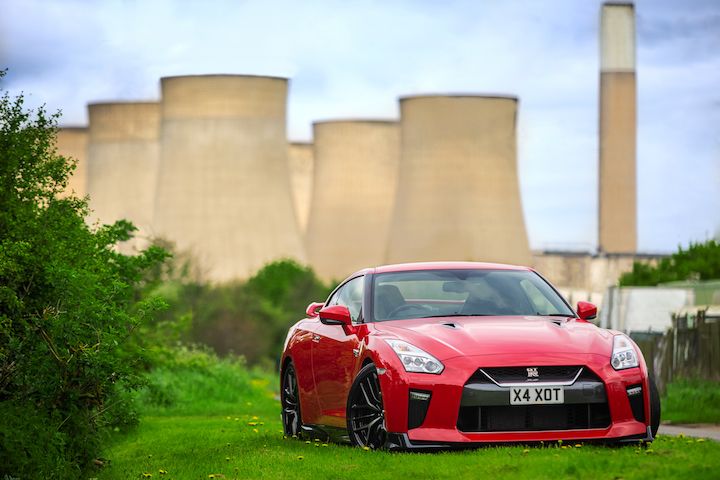 You could be forgiven for thinking that the GT-R is getting on a bit now. After all, it's been around for quite some time. But whilst you'd be forgiven, you'd ultimately be proven wrong.
That's because the second generation Nissan GT-R is as jaw-droppingly good as any of its rivals. It has a 3.8 litre, 562bhp engine that is as rapid as they come. This is a sub 3-second car after all, capable of blasting you from 0-60mph in 2.7 seconds and driving like it's on rails thanks to its superb four-wheel drive system.
It's also more comfortable and refined than ever, making it one of the truly great all-rounders in the supercar class and a leading choice from any stable with supercars for hire.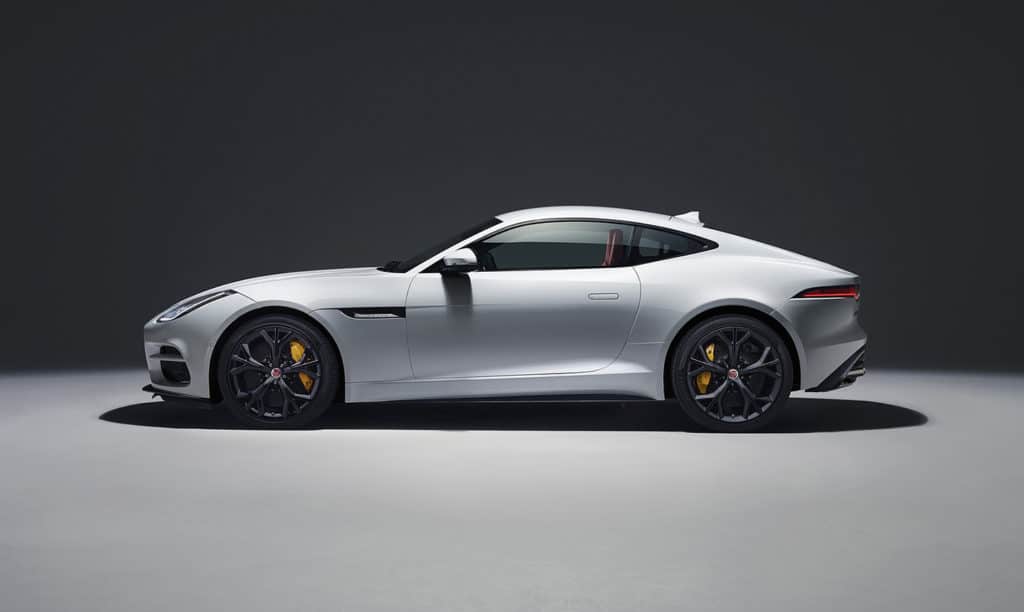 There's probably going to be some dissension that the F-Type is featuring in this list, so let us explain. From the start, we defined a supercar as a "high-performance sports car" which the F-Type undoubtedly is. We also made a requirement for "special/exotic/wow" all of which the F-Type has in spades.
As the long-awaited successor to the legendary E-Type, few cars were as eagerly anticipated as the newest Jaguar sports car, the F-type. It is the modern equivalent of a classic British sports car, gorgeous to look at, and fun to drive thanks to the traditional front-engined, rear wheel drive layout. It's also plenty quick, with the top of the range SVR equipped with a 5.0 litre V8 engine that boasts 566bhp and destroys the 0-60mph sprint in 3.5 seconds. That's supercar speed for sure.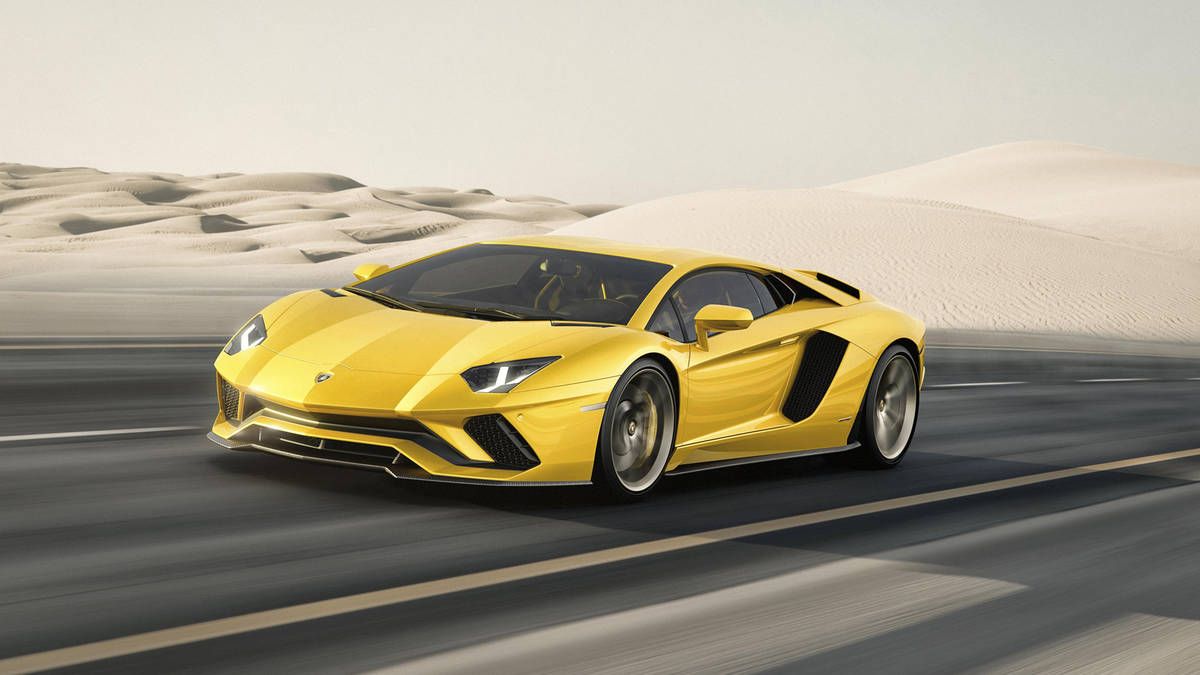 Lamborghini has been responsible for some of the most extreme supercars in automotive history, with a back catalogue that includes the Countach, Diablo and Murcielago. The Lamborghini Aventador is therefore just the latest in a long and legendary line.
As a V12, mid-engined, all-wheel-drive supercar, the Aventador is like no other and offers one of the purest supercar experiences that money can buy. The Aventador is an unashamed extrovert, with scissor doors and a 6.5 litre engine that produces 733bhp in top-level SV form, without any need for a turbocharger. You'll get from 0-60mph in 2.8 seconds and if you happen to have a spare runway at your disposal, all the way to 218mph.
Mercedes AMG GT

The only true German car on our list - yes, Lamborghini has Audi ownership but you can't convince us it's anything other than Italian - the Mercedes AMG GT is the king of German sports cars and heavily influenced by the successful motorsport engineering teams within the company.
With a strong focus on handling, the AMG GT has it's raspy V8 engine situated behind the rear axle, making it technically mid engined. There's four different trim levels to choose from, with the track focussed GT R sitting at the top of the tree. The best all-rounder in the range is the GT C, which squeezes 549bhp from its 4.0 litre V8, reaches 60mph in 3.6 seconds and is electronically limited to 197mph.
Rolls Royce Wraith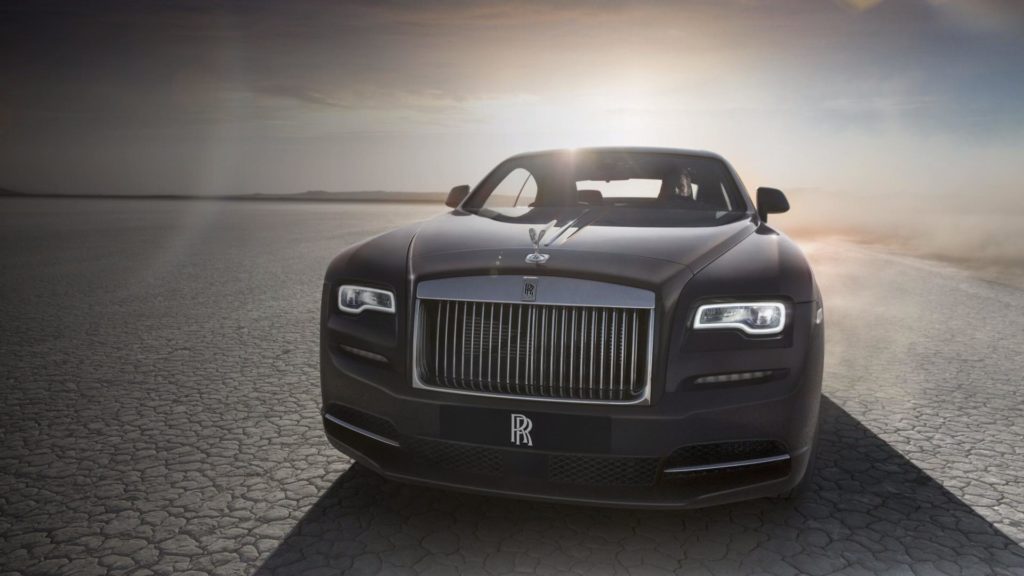 Whilst the Rolls Royce Wraith represented the company's first foray into the world of luxury sports cars, the vehicle remained true to its heritage. This is a car that is very much a Rolls Royce first - one of the world's best luxury cars - and a supercar second.
This car is huge. It's also as quiet and refined as one would expect a Rolls Royce to be; it wafts you around town with a minimum of fuss and a maximum of luxury. But stamp your foot down and you'll find the BMW-sourced 6.6 litre, twin-turbocharged, V12 engine happy to oblige. 0-60mph is met in 4.6 seconds whilst the Wraith tops out at a sensible limit of 155mph. Because whilst this is car for Rolls Royce owners who want to go fast, it is not for complete and unrestrained hooligans.
Aston Martin Vantage S V8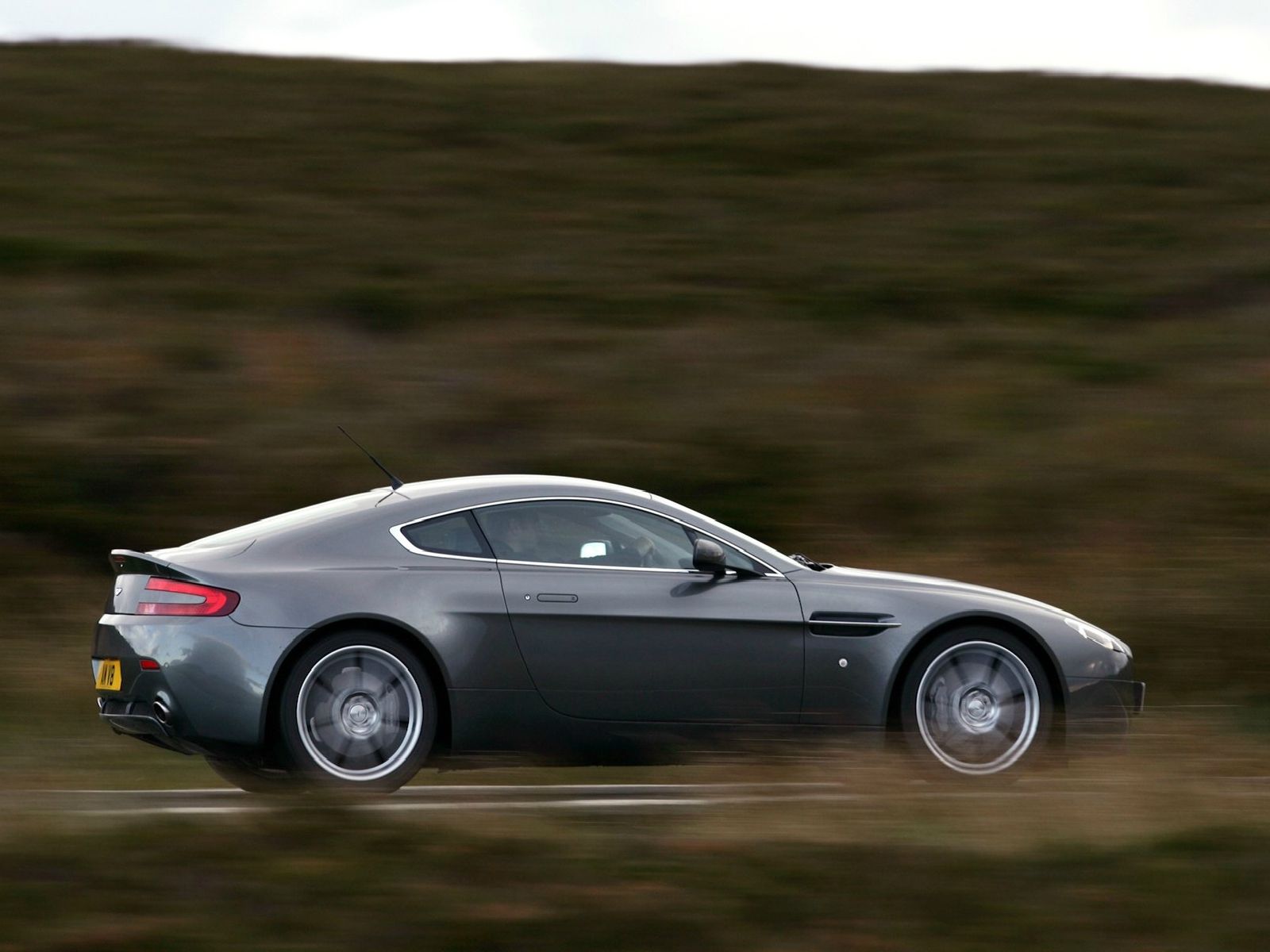 The Aston Martin Vantage S V8 is very much the baby of the Aston Martin group. Whilst its larger, more expensive siblings are focussed on being continent traversing Grand Tourers, the Vantage S directs its attention to being a driver-focused sports car. That also happens to be equipped with Aston Martin luxury.
It has a rev happy 4.3-litre V8 engine, allied to a short wheelbase and stiff chassis, all of which makes a car that is agile and quick to react to driver input. 0-60mph is reached in 4.6 seconds, whilst the car tops out at 190mph.
Bugatti Veyron Supersport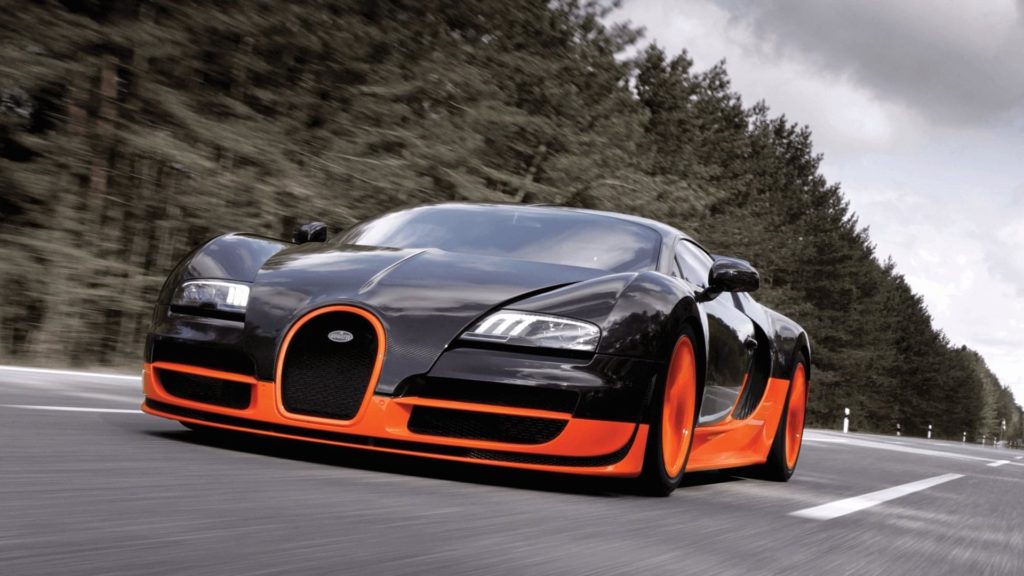 The Bugatti Veyron Supersport is the ultimate version of the ultimate car. It somehow manages to find 198bhp beyond the 987bhp of the regular Veyron. It will reach 268mph. Meanwhile 0-60mph is obliterated in 2.5 seconds. It has an 8.0-litre W16 engine (no, that's not a typo) which can drain a 100-litre tank of fuel in just under eight minutes.
There is no torque peak, as the quad-turbo engine develops its maximum torque figure in the whole band between 3000 and 5000rpm. And that's 1105lb-ft of torque by the way.
In the same time that it takes the legendary McLaren F1 to get from 0-200mph, the Veyron Supersport will go from 0-200mph and then back to standstill again. It will then do 0-60mph as well. All in supreme luxury.
McLaren P1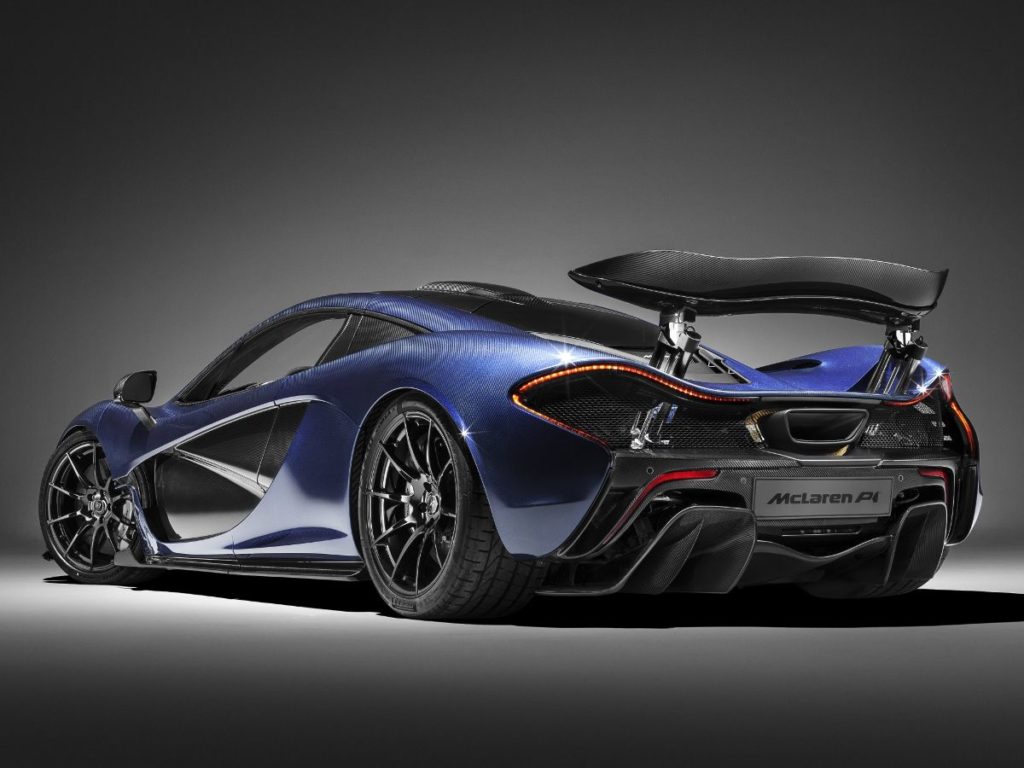 The McLaren P1 is a limited-production plug-in hybrid supercar. Within one month of going on sale, all 375 units were sold. The P1 is considered to be the successor to the iconic McLaren F1, and utilises hybrid power and Formula 1 technology. Like the F1 before it, the P1 is a mid-engine, rear wheel drive design that uses a carbon fibre monocoque.
The basic engine - minus electric power - is a 3.8-litre twin-turbocharged V8 that generates a hefty 727bhp at 7300rpm and 531lb-ft torque at 4000rpm. The single electric motor produces 176bhp to give a grand a total of 903bhp and 664lb-ft. Making the P1 capable of 0-62mph in 2.8-seconds, 0-124mph in 6.8-seconds and a top speed of 217mph. It is a feat of modern engineering.
Tesla Roadster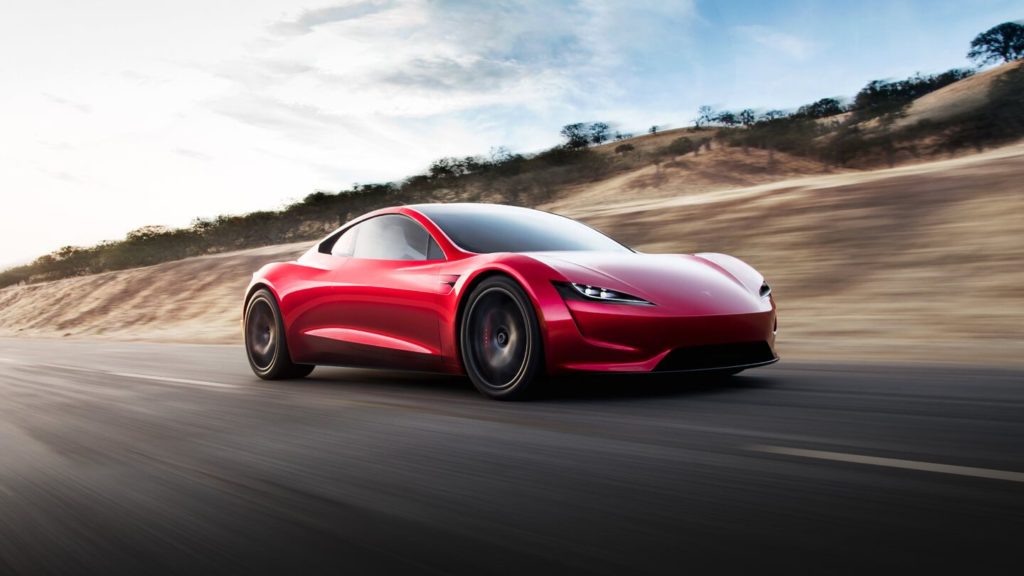 Whilst on the subject of 'modern engineering', few cars epitomise the term better than the Tesla Roadster. As well as being the first car produced by Tesla, the Roadster was also the first of its kind: an electric sports car.
Based upon the layout of the Lotus Elise, the Roadster had a factory quoted 0-60mph time of just 3.9 seconds, thanks to its 185-kilowatt (248 horsepower) electric motor, powered by a 53-kilowatt-hour battery pack and 6,831 lithium-ion cells.
Tesla hasn't stopped there though. Looming in the future is the new and improved Roadster, set to be a record breaker that destroys all of the competition. Allegedly capable of 0-60mph in 1.9secs, 0-100mph in 4.2secs and with a top speed over 250mph, the Roadster, uses three electric motors and takes power from a 200kwh battery pack. With a claimed range of 620 miles and 10,000Nm of torque at the wheels, the Roadster is set to be the premier electric supercar.
Ferrari LaFerrari

Ferrari's rival to the P1, the car named simply 'The Ferrari' is astonishing. It's a limited-production two-seater that combines a 6.3-litre Ferrari V12 engine with a KERS style battery pack and electric motor, to push out a combined 950bhp and 663lb-ft of torque.
It's also insane to look at and drives like nothing else you'll find. The V12 engine has been optimised to provide horsepower at high revs, leaving the hole in the torque curve to be filled by the electric motor. So you get instant throttle, lightning fast responses and the most natural-feeling hybrid around. You also get 0-60mph in 2.9 seconds and a top speed of 217mph.
Koenigsegg Regera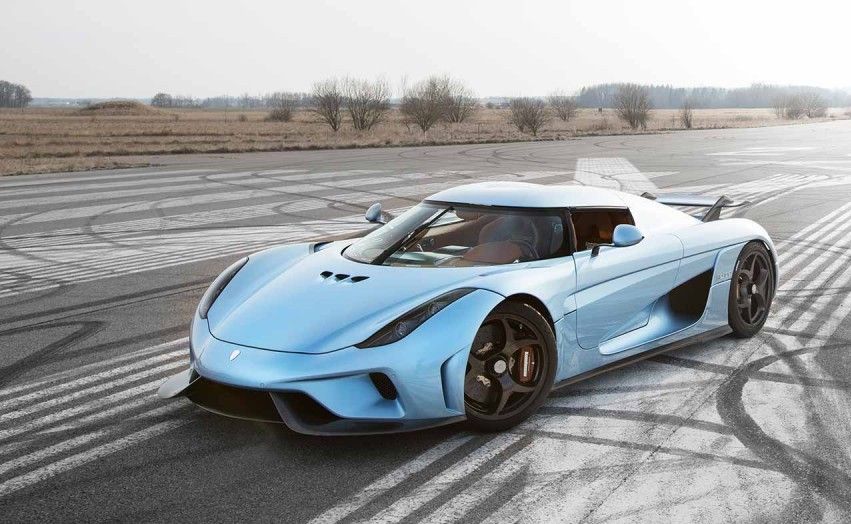 Perhaps the most exclusive of all the limited-production, plug-in hybrid supercars, is the Koenigsegg Regera. With only 80 units being built, the Swedish manufacturer is breaking new ground with one of the rarest cars around. Because the Regera is a car that produces a combined 1,797 bhp, but doesn't have a gearbox.
Inspired by the instant power delivery of electric cars such as the Tesla Model S, Koenigsegg decided to build their own in-house system, the Koenigsegg Direct Drive (KDD). The system has a simple torque converter that allows clutch slip, which means that both electric and internal combustion motors are managed by one, flexible gear.
The Regera has projected performance figures of 0-62mph in 2.8secs and a top speed over 250mph. The impressive feats will not stop there, as the Regera is projected to take just 3.2secs to accelerate from 90-155mph and hit 250mph in around 20 seconds - having passed 186mp in around 11 seconds.
Ferrari California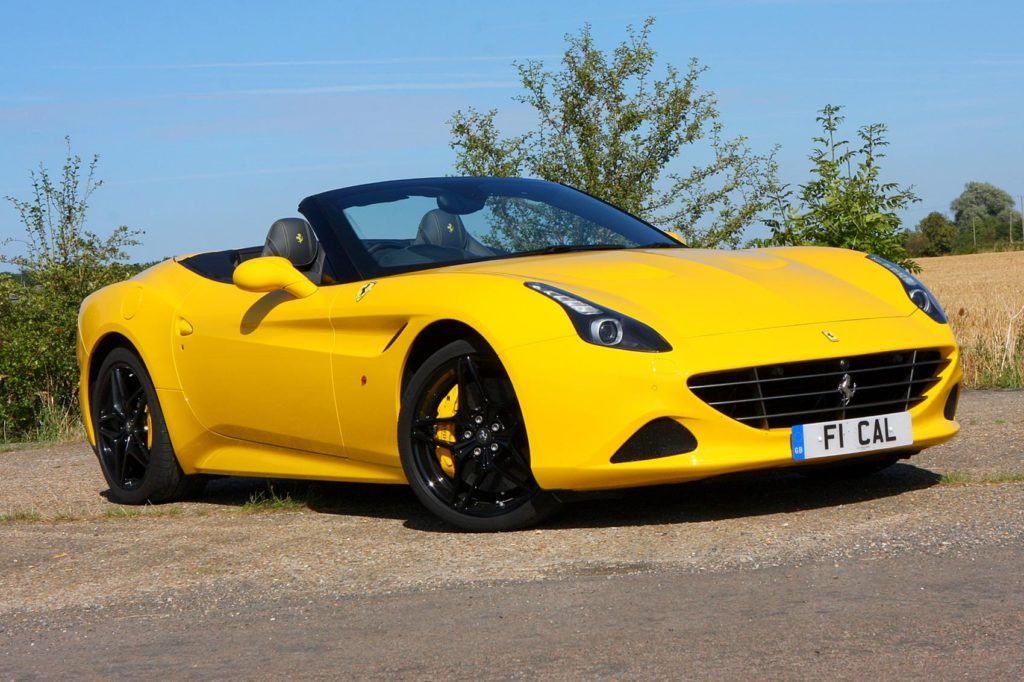 For many reasons, the California was considered a landmark car for Ferrari. When launched it represented the first use in a Ferrari road-car of a number of new technologies, it was: the first front-engined Ferrari with a V8, the first to feature a 7-speed dual-clutch transmission, the first with a folding metal roof, the first with multi-link rear suspension and the first with direct petrol injection.
The original California had a 4.3-litre V8 engine, a top speed of 193 mph and could accelerate from 0-62mph in under 4 seconds. The most recent model, the updated California T, received a 3.9 litre twin turbocharged engine producing 553hp, could accelerate from 0–62 mph in 3.6 seconds and achieve a top speed of 196mph.
Ariel Atom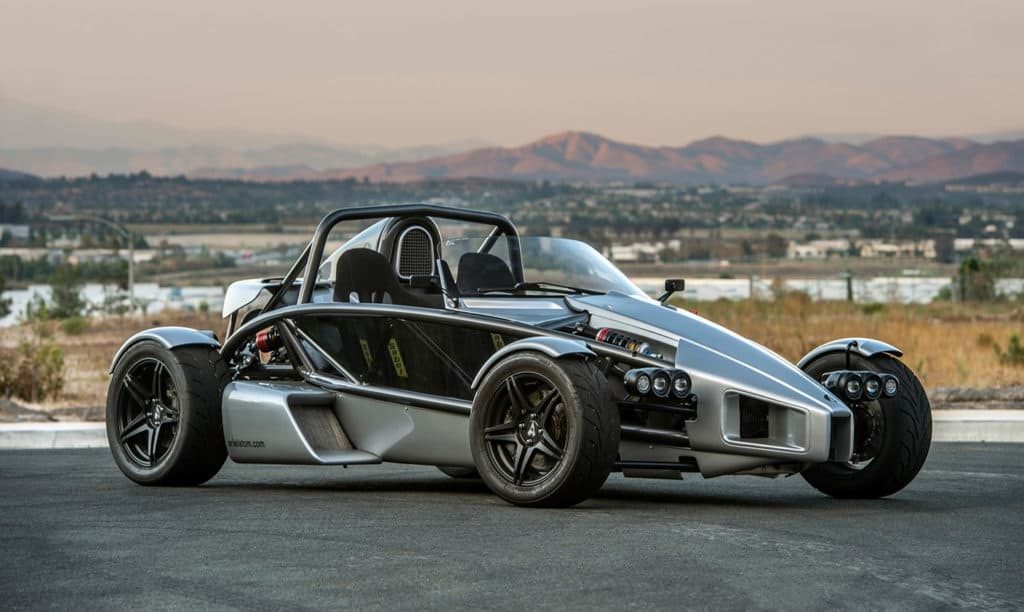 Ok, the Atom is not your typical supercar. It isn't a huge engined card that will feature in a list of the most expensive cars. What it is, is one for the drivers and the undisputed pound for pound champion. And the current generation Ariel Atom 4, is the fastest one yet.
Anything that can be improved, has been. There's a new, stiffer, tubular chassis. Drag has been reduced whilst downforce has been increased. There's a new exhaust system, a larger fuel tank, and a revised suspension setup too. There's also a new engine, with the 316bhp four-cylinder turbo from the Honda Civic Type R fitted to the car.
All of these improvements mean that the Atom handles better than ever and sprints from 0-60mph in a phenomenal 2.8 secs, making it quicker off the mark than just about every other car on this list. And that's supercar performance if you ask us.
Maserati Granturismo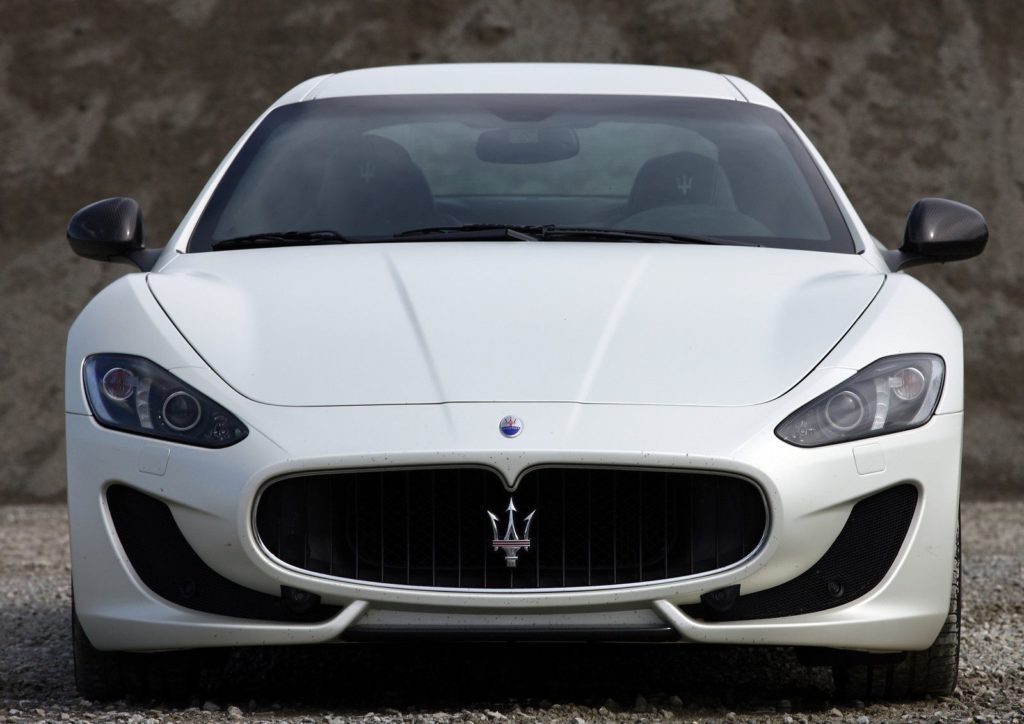 The Maserati Granturismo is as beautiful as they come. Simply put, it is stunning. It's also the latest grand tourer from the Italian manufacturer steeped in GT heritage and history. Back in 1957 Maserati installed a large engine under the hefty bonnet of the A6 1500, sent driving power to the rear wheels, and it hasn't looked back since.
The Granturismo is a car that allows you traverse a continent in comfort and in speed. With a 4.7 litre V8 engine pushing out 453bhp, the Maserati can dash from 0-60mph in 4.5 seconds and waft you comfortably all the way to 186mph should you desire. We mentioned it's stunning, right?
Ford GT
The updated Ford GT harks back to its ancestor, the GT40 that first won Le Mans in 1966. It's also the road-going version of a race car that won its class at the 2016 24 Hours of Le Mans, 50 years after Ford's first victory. In essence, it is a race car for the road, with both cars developed jointly and assembled at the same Canadian facility. Notably, Jeremy Clarkson, former Top Gear presenter, fancies the Ford GT as one of his favourite supercars.
The performance is everything you'd expected, given the bloodline that produced this vehicle. The GT's turbocharged and relatively compact V6 engine produces 650bhp and accelerates from 0-60mph in 2.8 seconds. It will continue accelerating all the way to 216mph.
Sure, it's not the most comfortable or user-friendly car. But it's lightweight, focussed and oh so impressive to look at.
Bugatti Chiron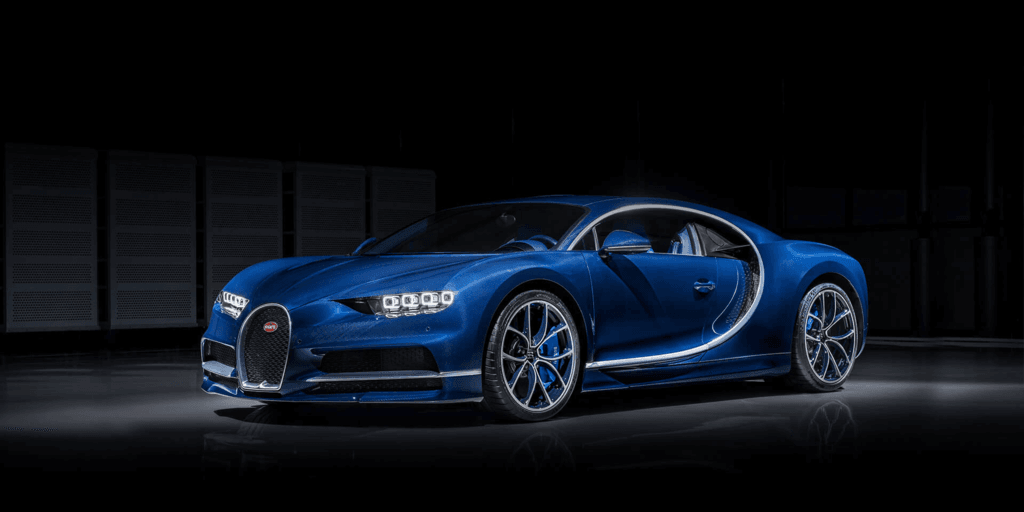 Whilst this list isn't ranked, in true cliché fashion, we have saved the best for last. The Bugatti Chiron is the significantly faster and more powerful replacement for the Veyron, with Bugatti claiming it has no rivals. Many supercars are race track inspired, the Chiron is anything but. It is unabashedly and unashamedly luxurious and at the top of the list of most expensive supercars.
Bugatti has 'no-plastic' policy means that everything in the interior is either leather, metal or carbon fibre. The steering wheel is milled from a solid aluminium billet, the Bugatti badge is made from real silver and the tweeters from the audio system feature real diamonds.
Unlike the recent hybrid sports cars from Porsche, Ferrari, McLaren and Koenigsegg, the Chiron does not feature any hybrid element to its powertrain. Yet it's faster than them all, reaching 62mph in less than 2.5 seconds and 186mph in under 13.6 seconds. The top speed is electronically limited to 261mph. The engine that gives such a power? An 8.0 litre, quad-turbocharged, W16 unit driving all four wheels and producing 1,500 hp.
Experience a supercar for yourself
Do you want to start working your way through the list of the '23 Supercars You Need To Drive'? If so, we can get you started right away!